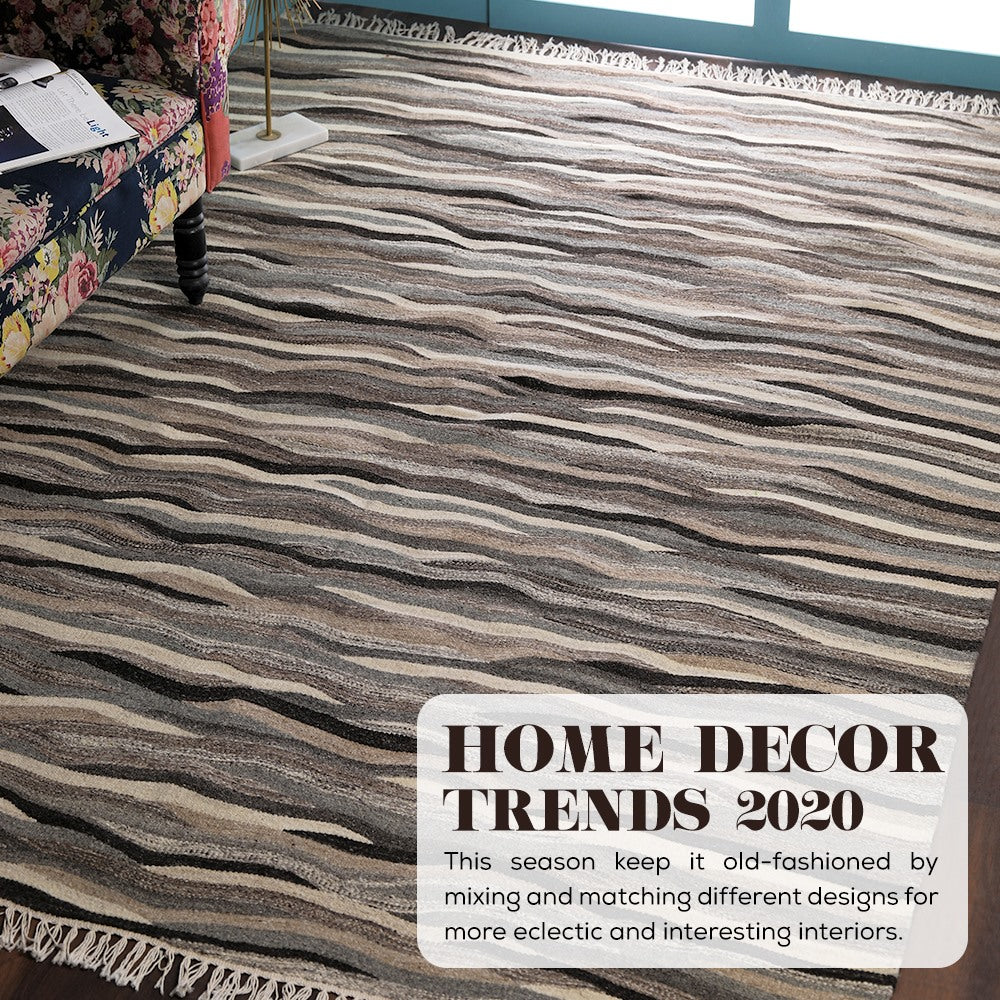 Why are Rugs important and Tips to use them!
Why are Rugs important and Tips to use them!
To explain the importance of Rugs, it's quite simple. Imagine yourself going out for a fun evening, dressed up in the most elegant way possible - wearing a smart shirt, a sleek bottom, and an impressive hairstyle, but then you forget your shoes and leave barefoot.
That sounds like a bit of a mess, right? It's the same thing with our homes. Our interiors stand incomplete without the presence of a rug, irrespective of how beautiful they are. Even for people who intentionally wish to keep their places sober with less furnishing, a rug placed right simply escalates the beauty.
Now that you are convinced of the magical powers of a rug let us learn about the different ways to use them!
Add character and personality with pattern
Black And White, Chevron Pattern, Woollen PEQURA Rug
A room that is filled with colors, and holds a vibrant atmosphere, needs a rug that can match with its vibe and yet, not take it overboard. As seen in the above picture, the monochrome pattern of the Rug perfectly complements the floral printed sofa. With the evergreen monochrome pattern, it adds the right amount of character and personality to space.

Multi-Colour, Flat, Hand-Woven, Wool Rug

As much as we all love having open spaces at our homes, we often leave them overlooked in terms of decorating them. Be it our friends or family; it's the open spaces that invite us the most, especially to spend our evening gossip sessions with a cup of latte.
 So, go ahead and invest in a fun printed Rug to add luxury to your favorite corner of the house. P.S. – It can also act as a yoga mat for all your exercise needs, making a win-win situation for you. 

Black and Grey, Hand-Woven, Wool PEQURA Rug


Do you own a place that has a hardwood floor? Well, we know how it can get a bit of a problem when you walk down there while everyone's sleeping or having a quiet time. Rugs are the perfect solution for sound absorption and along-side, add style to your wood furnished home.
Completing the missing element

Black, Green, Grey, Mustard and Pink, Cotton PEQURA Rug
You have tried everything to make your room a cozy one, the one that makes you feel it's yours, and yet, there is something that seems missing. Well, no brownie points for guessing because, of course, it's the RUG!
Even you have a taste of simplicity; all a rug does is adds to the charm. Take note from the above picture and notice the multi-color Rug stealing all the attention in a room full of muted colors.